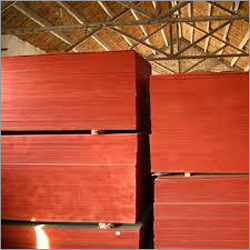 Product Description
We take pleasure to introduce ourselves as one of the renowned manufacturers and suppliers of Film Faced Shuttering Plywood. We designed and manufacture this plywood using chemically treated veneers & planks and strong hardwood coupled with latest machinery. In order to ensure its strength and better bonding, this shuttering plywood is quality tested by our quality controllers on various defined parameters. Acknowledged for fine finish, termite resistance and durability, this Film Faced Shuttering Plywood is used in construction of bridges, metro projects, flyovers, ship building, water tanks, cooling towers, etc. It is available with us in variety of sizes at market leading prices.
Shuttering, Grade Plywood from Apex is made out of select hard wood species and imported veneer of uniform quality. These veneers are dried and bonded with high quality phenol formaldehyde BWP grade resin, under controlled temperature pressure. Plywood is finally treated
with fixed type water soluble chemical preservations under vacuum pressure to ensure absolute protection against termite borer, fungus, and other organism.

APPLICATION
Concrete shuttering work, boxes for concrete columns, beams, slabs, Wall, tanks, bridge, silos, mezzanine floors, truck and bus body building, kitchen cabinet, cooling towers and other exteriors.

ADVANTAGES

Available as per 181 specifications.'
Wide range: Plain coated and Film Faced.
Semi densified or Hi-densified
Proves to be very economical because it can be used repeatedly.
Lends a smooth surface to the concrete work and requires very little additional plastering.
Scores over steel sheet in extreme hot 8: cold climate.
SALIENT FEATURES :-
Manufactuted in strict adherence to IS:303 Or IS:4990 as per the need of the customer.
Bonded with superior grade MF Synthetic resin Adhesive conforming to IS:848-1974, thereby making it boiling Water resistant / Proof.
Chemically treated with select Preservatives, virtually sealing off termites & Pests.
Resistant to boiling water, moisture, dry heat, and dimensional changes in weather & climatic conditions.
Technical Specifications
Film faced plywood IS 303
Moisture content (%)

8-12

Glue shear strength (N)

>1350

Water resistant test (N)

>1100 (tested after 72 hours boiling)

Mycological test (kg)

>1000

Adhesion of plies

Excellent

Preservative treatment

Veneers are treated with preservatives

GLP is done

Finished panels are given preservative treatment as per relevent IS code

Specific gravity

Around 0.85 kg/cm3

Water absorption

<1%

Screw holding strength (N)

>1200