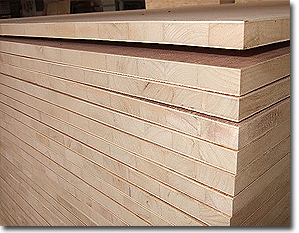 Product Description
SALIENT FEATURES :-
Manufactuted in strict adherence to IS:1659/1990 (Blockboard)
Bonded with superior grade MUF Synthetic resin Adhesive conforming to IS:848-1974,Making it Moisture Resistant.
Most economical choice where high thickness panels needed for greater bending resistance.
TECHNICAL DATA
MR grade Blockboard IS: 1659

Moisture content (%)

10-12%

Density

.5 gm/cc

Glue shear strength (N)

NA

Water resistant test (N)

No delimitation after 4hrs immersion in cold water

Mycological teat (N)

No delimitation

Water absorption/swelling

6%

Adhesion of plies

Excellent

Modulus of Elasticity (N/nm2)

>5000

Modulus of rupture (N/nm2)

>4000

Screw holding strength (N)

>1000

Preservative treatment

Veneers are treated

GLP is done

Ribs are preservative treated.
STANDARD THICKNESS :- Plywood: 4, 6, 9, 12, 16, 19, 25 mm

STANDARD SIZES :- 2.44 X 1.22, 2.14 X 1.22, 1.84 X 1.22, 1.54 X 1.22, 2.44 X 0.92, 2.14 X 0.92, 1.84 X 0.92, 1.54 X 0.92